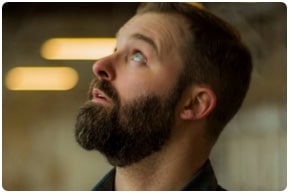 Christian Lockerman
Do you guys see that? What's up there?
Christian has worn many hats over the course of his 15 year career: student, professor, producer, director, editor, cinematographer, entrepreneur and, most recently, husband and father. He founded Maverick Visuals in 2013 and currently serves as the president and creative juice behind Paragraph Pictures.
Chris is the newest member of the Merging Media team where he will produce and direct video projects that bring his visual and narrative acumen and (set of cinematic toys) to their storytelling party.
He loves movies and films, both long and short, and will talk your ear off about anything motion picture related. He has developed some workshops, made some films, eaten some weird foods, won some awards, filmed some docs, flown way too many times, made some commercials, broken some hearts, fixed some others, filmed some music videos, high fived Wiz Kahlifa, low fived Bob Kraft, built a company, sold a company, then built another.  He's spent the bulk of his career traveling the globe as a cinematographer, and he's quick to recognize that it's the process of creating visual stories and building the symbolic puzzle for an audience to solve that fascinates him and will forever challenge his creativity.
He takes great delight in bringing this passion to the screen and helping tell compelling stories in every visual way possible. Sometimes he also takes pictures (lately mostly of his daughter – 5,000 in a year isn't that many, right?).
He's also quick to point out that a nice dog walk and a fine bourbon at the end of the day always help keep the stories alive.