Dinner and a Dream
One beautiful night in the Spring of 1999 my wife (Paula) and I were enjoying a delightful dinner at our famous family restaurant, Cafe Allegro, located on Pittsburgh's historic South Side. (We opened Cafe Allegro in 1986 and it soon became a hip and legendary restaurant for 22 years, before closing its doors in 2008. But not before earning the BEST OVERALL RESTAURANT award seven years in a row, as voted by the people of Pittsburgh in Pittsburgh Magazine's Annual Reader Poll. It was a high honor and awesome achievement, still unmatched by any other restaurant in Pittsburgh's history.)
So there we were, sipping some fine wine and nibbling on a signature grilled calamari appetizer. Suddenly we simultaneously stared out the window and across the street to a dark, shuttered bar called Club Cafe. We both stopped talking. We seemed to have the same idea.
History of a Place
Club Cafe had been a colorful fixture in the South Side neighborhood for many years.
It was originally a market storefront and restaurant at the turn of the 20th century as you can see from the vintage photo.
In the 1930's it became a "shot and a beer" watering hole for hard driving steel workers. They'd stop by in the morning on their way home from the midnight shift, and then again later that day on their way back to the mills. It was one of the most popular bars in Pittsburgh until the 1980's when the steel industry started to collapse. Eventually it closed. It re-opened in the early 1990's as a father-and-son dueling jazz piano club (Cardillo's Club Cafe), but closed just a few years later. One day it suddenly reopened under questionable ownership as a dive bar (we could never figure out what they were doing in the back rooms.) But it quickly went dark again and sat vacant for a many years.
That is, until Paula and I spied it during that dreamy dinner date.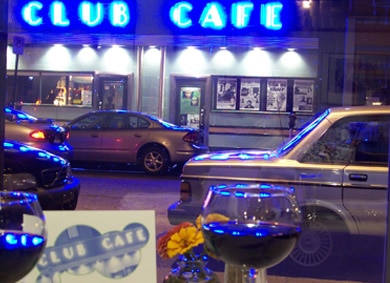 Too Much Wine
Paula and I love music.
All kinds of music. We're both musicians and we write and record original songs together. That night, after too much wine, we decided (there and then), that we would purchase Club Cafe and re-open it as a music nightclub. Like Cafe Allegro, we wanted to create a place and space unlike anything Pittsburgh had ever seen.
We soon purchased the building and the business assets (basically a liquor license and some used bar equipment), and set about making our plans.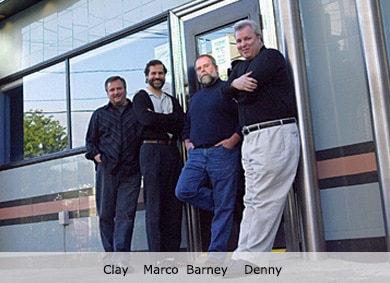 A Music Media Venture Is Born
We brought in my original co-founding Merging Media business partners to join the dream. Barney Lee (audio producer), Clay Kisker (video producer), and Dennis Loughran (chief financial officer.)
We also brought in 2 other partners, Joe Nolan and Jay Koval. Joe was a co-owner and Executive Chef at Cafe Allegro and he would take care of the food side of the business. Jay was one of Cafe Allegro's waiters, and a music aficionado. He would book the bands and manage the nightclub operations.
Together our team set-about designing the collective dream ultimately that became "our" Club Cafe.
Place Making / Music Making / History Making
Throughout the Summer of 1999 we completely transformed the property. We gutted the building and designed one of the coolest, most intimate music performance stages in Pittsburgh. Our eye was on creating exceptional acoustics within a small, intimate environment. We also wired the facility with high-quality video and audio technology. We constructed a digital TV and audio recording studio on the second floor above the performance space, with robotic cameras that could capture live performances without getting in the way. Our vision was to create a music environment that would bring great artists into a small venue setting, giving our audiences (and the artists) an unforgettable, intimate, and up-close live music experience.
But our dream was bigger. We wanted to be more than a live music venue. We wanted to record the shows and share them with the world. So our goal was to capture the magical moments and bring them to the world via the Internet and broadband distribution. We intended to create original and branded Club Cafe content and share it via the Internet so that anyone, anywhere, at any time could join in fun.
We wanted everyone to experience our unique brand of Club Cafe music performance.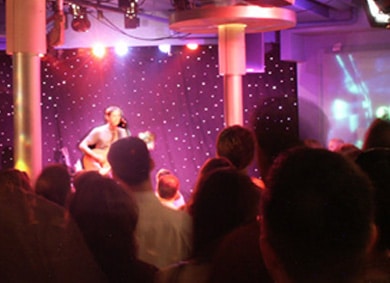 Six Years / 200+ Recorded Shows / One Original Music Brand
From 1999 until 2005 Live at Club Cafe became a known and respectable brand. We really thought it was "the next stage in music."
Problem was, we were just a bit too early to realize the full dream. We were pre-YouTube, pre-Facebook. We were also pre-widespread broadband adoption and the explosion of music and video content that was about to happen. We ran out of steam just before things blew up. We just didn't have enough juice to fund the entire endeavor ourselves, and to get it over the finish line.
We did achieve part of our plan (capturing great content.) But after 6 years of passionate commitment and grinding it out (not to mention a lot of financial and emotional investment), we scaled back our effort in 2005.
We continued to operate Club Cafe (without recording shows) until 2011. Then we sold the business to our booking agent (Opus One Productions) who have been doing a fine job of keeping the Club Cafe name and live music experience alive.
The TV Show Series / The Comcast Club Cafe Branded VOD Channel / The Archives
What do we have to show for all this effort? An 11-part TV series (see episodes below), a branded video-on-demand channel on Comcast Cable in Pittsburgh (from 2005-2006), and a vast video and audio archive of over 200 original, live music shows by some of the best artists on the planet.
So if you're a music lover and want to discover some amazing artists and musical moments, check out a small portion of our Club Cafe video portfolio below.
If nothing else, watch the first video titled: Club Cafe The Story, which will give you a great overview of what we did.
A Small Sampling of the Artists We Recorded
Norah Jones * John Mayer * Lisa Loeb * Jill Sobule * Janis Ian * Kathleen Edwards * Chuck Prophet * Adrian Belew & the Bears * Tori Amos * Billy Miles * Dave Edmunds * Angie Aparo * Shivaree * The Holmes Brothers * Duncan Sheik * Graham Parker * Jesse Malin * Melissa Ferrick * Craig David * Tracy Bonham * Paul Thorn * Aqualung * Glen Phillips * The Cash Brothers * David Wilcox * Shannon McNally * Kim Richey * Maria Muldaur * Marshall Crenshaw * Matt Haimovitz * KT Tunstall * Amy Correia * Hem * John Doe * The Damnwells * Robert Randolph & The Family Band * Martha Wainwright * Shannon Curfaman * Josh Kelly * Joseph Arthur * Rory Block * Vance Gilbert * Brandi Carlile * The Red Elvises * Francis Dunnery * Dervish * The strawbs * The Fixx * Mindy Smith  * Jimmie Dale Gilmore * Joe Ely * David Mead * Garrison Starr * Kris Delmhorst * Alexi Murdoch * Cracker/Camper Van Beethoven * Damien Rice * Tegan and Sara * Sarah Harmer * Maia Sharp * Sondre Lerche * California Guitar Trio * Vienna Teng * * Ellis Paul * Clem Snide * Chris Smither * Charlie Hunter Trio * Crooked Fingers * Asylum Street Spankers * Mary Gauthier * Erin McKeown * Slaid Cleaves * Josh Ritter * Tim Easton * Reggae Cowboys * Project Object * Bob Schneider * Absolute Ensemble * Ingrid Michaelson
Don't know all of these artists? That's part of the point. Now you can discover what you're missing. Check out the videos below.
View Video Portfolio Below